Getting Started
This article covers UNIGINE-specific terminology and concepts and is highly recommended for all new users.
How Are Virtual Worlds Organized?#
How to Add Content to the Virtual World?#
Every piece of content, that can be used in your world or project, is an asset. An asset may come from a file created using a third-party application, such as a 3D model, an audio file, an image, or any other type supported by the UNIGINE Engine.
The main front-end tool of the Asset System is the Asset Browser in UnigineEditor. It is used to organize content in your project: create, import, view, rename your assets, move them between the folders and manage their hierarchy.
Each time an asset is created or imported, UnigineEditor does all necessary job, including conversion of your assets (be it a JPG texture or and FBX model) to its native format (such as compressed .dds textures, .mesh geometry, .anim animations, etc.) to be used by the Engine at run time. Such files, generated as a result of conversion, are called "run-time files", and they are updated by UnigineEditor each time you modify the corresponding asset.
It is recommended that you familiarize yourself with the Assets Workflow to learn all the details.
UnigineEditor#
UnigineEditor allows you to assemble a virtual world: import and set nodes, assign materials and properties to them, setup lighting, adjust global settings (physics, rendering, etc.) and more. It features What You See Is What You Get approach: you can instantly see the scene with final quality (as at run time).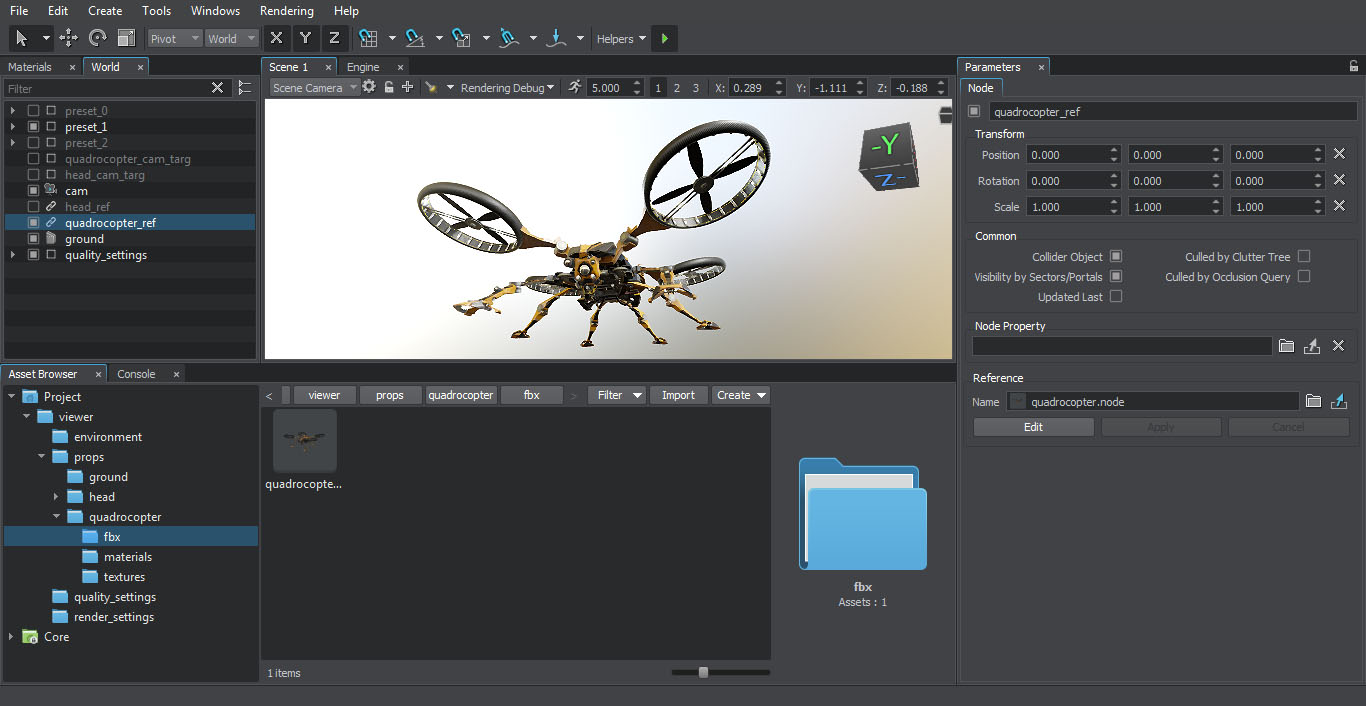 The UnigineEditor functionality can be extended by using the UnigineEditor's Plugin System.
Watch the tutorial below to learn how to import 3D models to UNIGINE:
How Do We See the Virtual World?#
For visual representation, UNIGINE uses a standard perspective projection. The orthogonal projection is also available.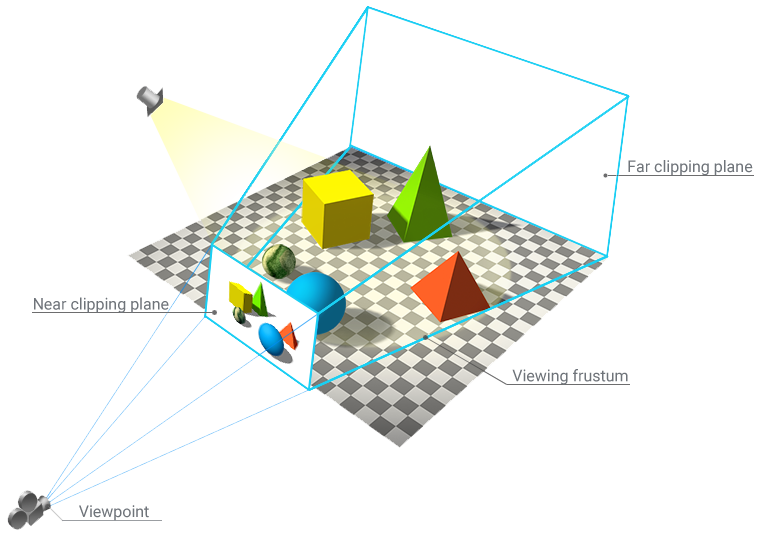 Perspective projection
In UNIGINE, the way how the world is seen is based on the 3 entities:
A camera is a structure containing 2 matrices: view and projection. Through this structure, you set the camera parameters: field of view, masks, near and far clipping planes, and post materials. Then, the camera is passed to a Viewport that will render an image from this camera. The camera is assigned to a Player, that will further control its position.
A viewport receives a camera and renders an image from it on the screen. In addition, it provides all functions of the main renderer, for example, cube maps rendering, stereo rendering, panoramic rendering and so on.
A player is a node controlled via the input devices (keyboard, mouse, joystick). It has a camera assigned. Once a player has changed its position, its internal camera's view matrix will be changed as well.

UNIGINE features several types of players: Player Dummy, Player Actor, Player Persecutor and Player Spectator.
The terms discussed above refer only to the API. The
Camera panel
in UnigineEditor manages
cameras
, which in terms of API would be called
players
.
Lighting#
Lighting in your worlds is created by placing Light Sources. These nodes contain parameters, which determine various light characteristics, such as brightness, color, etc. You can also use physically-based parameters, like color temperature and illuminance, to set up your lights.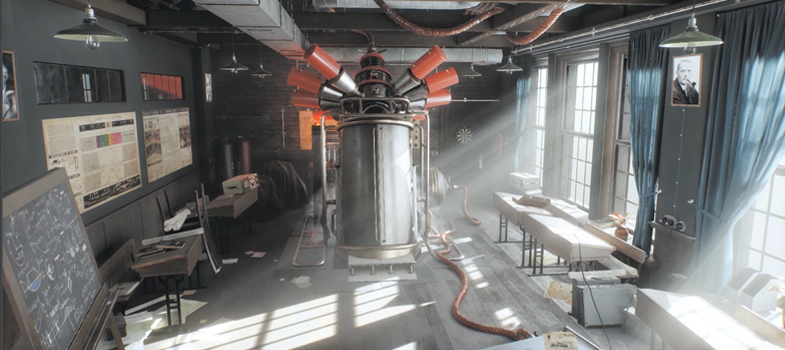 There are different kinds of lights and they emit light in different ways. A light bulb, for example, emits light in all directions — in UNIGINE it is represented by the omni light. A projector or car headlights emit a cone of light in a certain direction — projected light. Light beams that come from the sun appear to be parallel, as their source is located so far away. To simulate this type of lighting in UNIGINE, the world light is used.
To learn more about lighting in UNIGINE, see the Lighting Video Tutorial.
Rendering#
UNIGINE has a combination of full deferred renderer with forward rendering techniques:
All opaque (non-transparent) geometry is rendered in the deferred pass.
Transparent geometry is rendered in the forward pass.
To learn more about the applied rendering techniques, see the Rendering Sequence article.
In UnigineEditor all rendering settings (such as global illumination, shadows, environment, anti-aliasing, post-effects, etc.) can be adjusted via the Rendering Settings section and saved to a *.render file to be used later. Each new project contains settings for low, medium, high, and ultra quality presets as well as settings optimized for best performance in VR. You can now simply double-click on any of them in the Asset Browser to apply corresponding settings.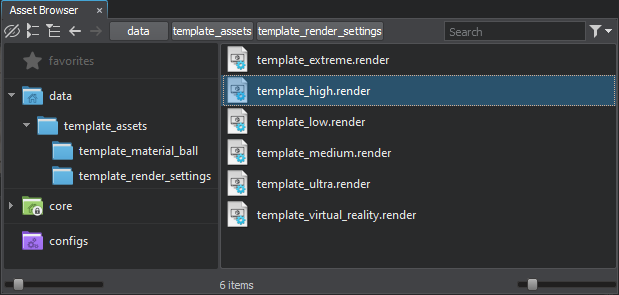 How Do We Hear Sounds?#
Next to the visual component, sound is a very important domain of real-time technologies. It is the key resource for creating the proper feeling of immersion in the virtual world. For example, rolling echo cues us to anticipate a scene to take place in a lofty dome. Soft tapping of a stone hit by an incautious foot or a car whooshing by with lightning speed — all that can be modelled aurally. UNIGINE offers a multi-channel sound system with support for binaural HRTF-based sound, various 3D effects, sound occlusion and multiple reverberation zones. You can assign any MP3, WAV, or OGA sound to be played by contact of the objects simulating their physical properties on the level of sound. For the moving sources, like a car, the Doppler effect is applied so that the movement of the sound source relative to the listener is authentically imitated.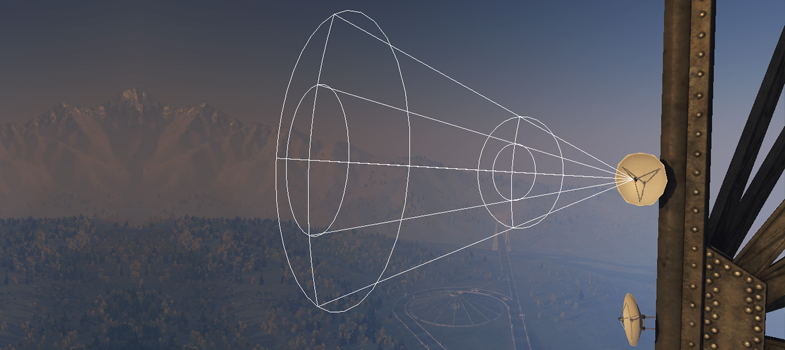 All sound settings can be adjusted via the Sound Settings section in UnigineEditor. You can also save your presets to *.sound files to be used later.
How Is Physical Behavior Defined?#
UNIGINE features a built-in simplified game-like Newton physics. The use cases for physics properties (where physics is more preferable than hard-coding objects animation) are the following:
Collision detection (preventing moving through walls)
Simulating perfectly elastic collisions (redistribution of kinetic energy)
Simulation of basic physical phenomena: gravity, friction, buoyancy
Procedural destruction of meshes
It is important to understand that the built-in physics module is very generic and works within the specific range of parameters: for precise simulation of mission-critical tasks (i.e. flight dynamics) it is highly recommended to use specialized solutions. As in any game-like physics, you should not use real masses and extremely high velocity values.
Physics is simulated with its own update FPS and is in effect within the physics simulation distance. Physical properties can be applied to the objects only.
Body#
To assign some physical properties to an object, so that it could participate in interactions between objects or external physical forces, it should have a body. There are several types of bodies: Rigid, Rag Doll, Fracture, Rope, Cloth, Water, Path.
Almost like in the real world, virtual physics of the body follows the concepts of velocity, force, mass, density and so on.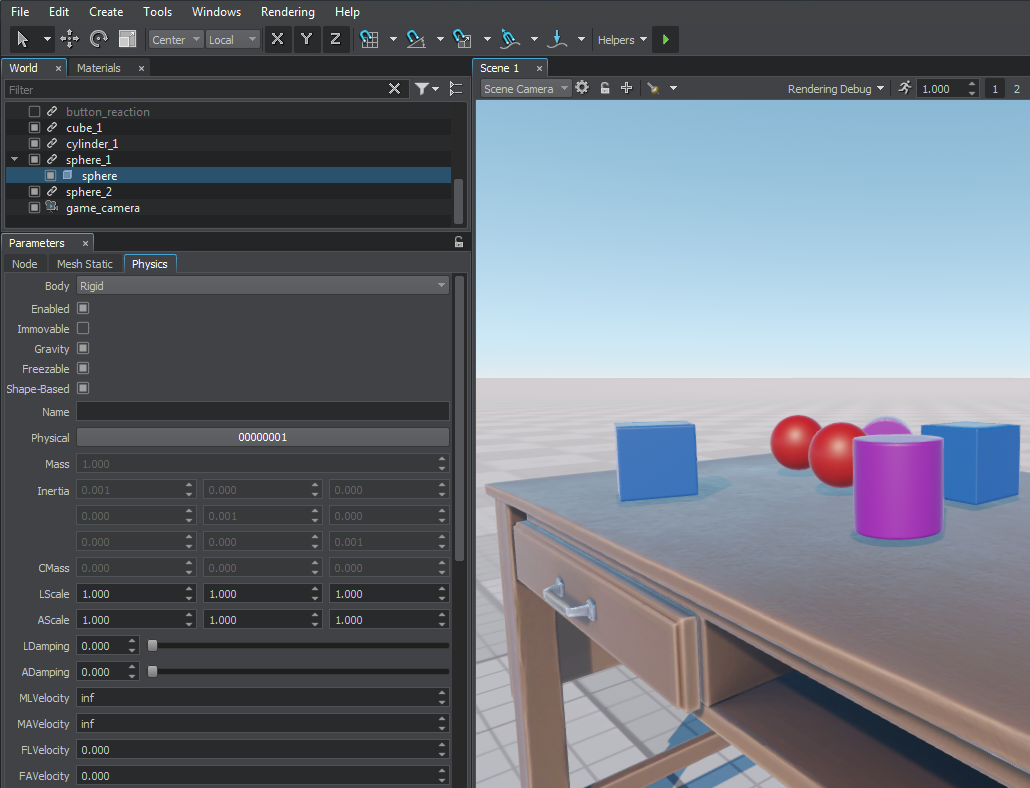 Shape#
While a body simulates various types of physical behavior, a shape represents the volume (sphere, capsule, cylinder, box, convex hull) that a rigid body occupies in space. A physically simulated object usually has a single body and one or several shapes which allow objects to collide with each other.
The maximum number of collision shapes for one body is limited to
32768
.
Collision Detection#
A collision detection algorithm detects contact points between shapes and prevents them from penetrating each other. Contact points and normals are accessible via API.
Joint#
Joints are used to connect several objects with respect to the mass balance and represent constraints removing certain degrees of freedom. There are different types of joints: Fixed, Hinge, Ball, Prismatic, Cylindrical, Wheel.

Global Physics Settings#
There are global physics settings (gravity, penetration factor, etc.) affecting all physical objects present in the world.
How to Control the Virtual World?#
How to Optimize Your Project's Performance?#
UNIGINE offers a wide range of various optimizations to ensure that your application runs at its best and fastest. But in order to enable them, you should do your part of the job: follow recommendations when preparing and setting up your project's content, e.g., use LODs, bit masking, and other techniques.
LODs#
Smooth alpha-blended levels of details (LODs) are used to decrease geometry complexity of 3D objects, when these objects move away from the camera, making it possible to lighten the load on the renderer.
Usually, LODs are used for:
Switching between LODs can depend not only on the distance from the camera, but also on the distance from the certain object.
UNIGINE offers two mechanisms of LODs switching:
Disable one LOD and enable another at the specified distance defined by two values: maximum visibility distance of the first LOD (Max Visibility) and minimum visibility distance of the second LOD (Min Visibility).

Smoothly fade one LOD into another at the specified interval defined by two values: minimum fade distance of the first LOD (Min Fade) and maximum fade distance of the first LOD/minimum fade distance of the second LOD (Max Fade).
See the Setting up object LODs article for the details.
Bit Masking#
Bit masking defines whether two entities affect each other or not. It can be used to:
The bit masking algorithm compares 32-bit masks of each of two nodes using binary operator and. If masks match, one object will influence another object; if they don't, the objects won't interact.
If two masks have at least one matching bit, the masks match. E.g. the following two masks match, as they have 4 matching bits: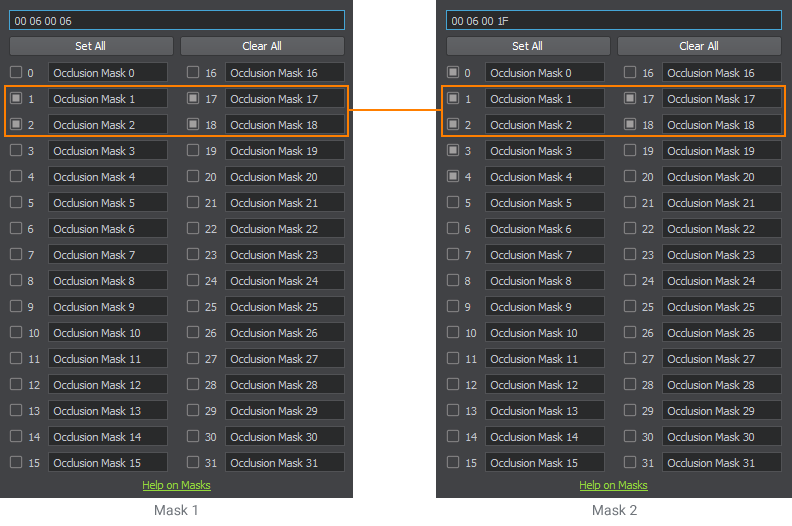 You can learn more about content optimization by watching the following tutorial:
Now you are prepared to start your experience with UNIGINE. Enjoy!
Last update: 2023-06-02
Help improve this article
Was this article helpful?
(or select a word/phrase and press Ctrl+Enter)