2018-04-26
Key Changes
Updated SDK editions
Voxel GI solution, which doesn't require UV mapping
Improved assets workflow for both artists and programmers
Major update of UnigineEditor 2
Refactored and extended properties system
FBX import in runtime
Dynamic destruction of trees and grass in runtime
Cross sections visualization
Improved anti-aliasing
Automatic screen space bevels
Easy configuration for multi-channel rendering, including templates (dome, wall, CAVE, etc.)
Improved performance profiler
Arbitrary terrain generation using non-georeferenced data
Procedural generation of buildings (2.5D)
ObjectTerrain to ObjectTerrainGlobal migration tool
General performance optimizations
This release was aimed at making your experience with UNIGINE 2 even better by improving the UI and functionality of the Editor and tools and adding more useful and long-awaited features to make the work of artists and programmers easier and more efficient.
Read more
2017-12-22
Key Changes
Better configurator for nonlinear image warping and edge blending.
More robust multi-channel rendering with remote projection configuration.
Improved CIGI protocol support.
Improved generation of grass and clutters, increased performance, runtime modification.
Added distributed terrain generation for Landscape tool.
Improved UnigineEditor 2.
Overall engine improvements and bugfixes.
More C++ samples.
This is mainly a maintenance release, consisting mostly of fixes and improvements, however, it introduces some new features.
These improvements were showcased in the new 3-channel firefighting flight simulator demonstrated at I/ITSEC 2017 in Orlando, USA:
Read more
2017-10-20
Key Changes
Editor 2 (re-written from scratch): faster, better, easier to use
Assets system
Improved multi-channel rendering: better sync, C++ API, more features
Improved CIGI protocol support
Powerful procedural generation in Landscape Tool: data refinement, tags, roads
Improved TerrainGlobal
Materials system refactoring: clean API, easier hierarchy management
Improved file system
VR template project
This release could be called "old systems done right". We gathered feedback from users and decided to improve important stuff before moving to adding more on top. It took months (and even years in the case of Editor 2) of hard work, but we believe it worths the effort.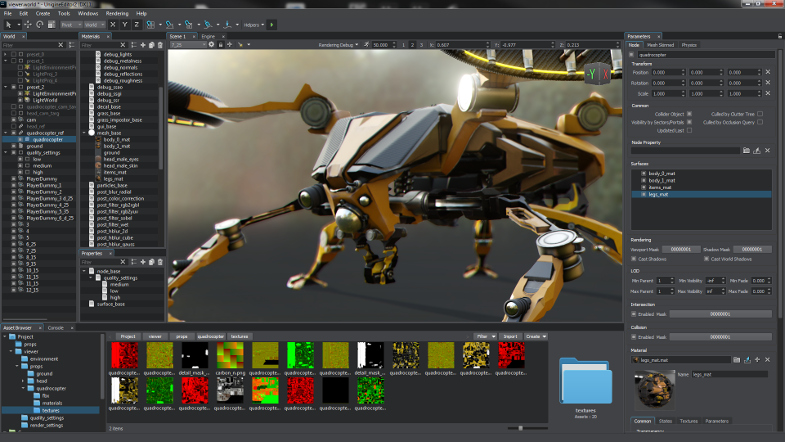 Read more
2017-05-31
Key Changes
New Screen-Space Ray-Traced Global Illumination (SSRTGI).
Screen-space shadows.
3D spline system.
Vector roads API.
Landcover data support.
Terrain modification API.
C++ programming quick start tutorial.
New Superposition demo with VR features.
Read more
2017-03-01
Key Changes
Optimized ObjectTerrainGlobal.
ObjectCloudLayer improvements.
Landscape tool optimizations.
Improved API for geo-referenced vector data manipulations.
Overall engine improvements and bugfixes.
Added interactive features into Oil Refinery demo.
New C# integration samples.
This is primarily a stabilization release, all users are strongly recommended to update.
Read more