Airport Assets
The functionality described in this article is not available in the Community SDK edition.
You should upgrade to
Engineering / Sim
SDK edition to use it.
The Airport Assets pack provides a set of ready-to-use assets representing vehicles and various props that can help you create an airport scene.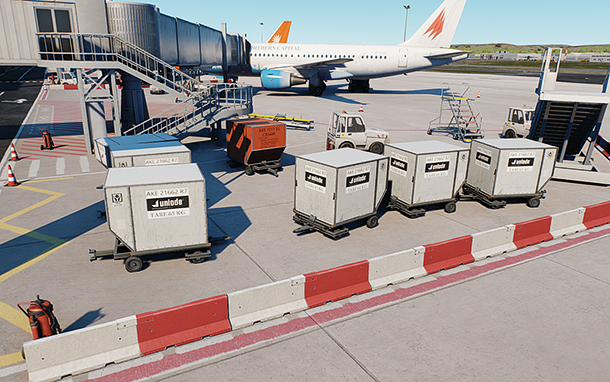 Vehicles:
Buses
Tractors
Towbarless tractor
Pusher
Trucks
Baggage car with a cart
Belt loader
Crash tender
Passenger gangway
Minivans
Light-duty vehicles
Props:
Power unit
High loader
Ladder
Tow bars
Carts
Windsock
Ramps
Jet blast deflectors
Plates and road signs
Fences
Landing field
Masts and towers
Steelwork
Lamp posts
Airport and airfield lights
Power boxes
Trash container
Trash can
Fire extinguisher
Crates
Pot
Bench
Opening the World#
To open the world containing models:
Download the Airport Assets add-on from Add-On Store.
Add the downloaded add-on (UPACKAGE file) to your project by dragging it into the project

data/

folder in the Asset Browser. In the Import Package window that opens, click the Import Package button and wait until the add-on contents are imported.
Click File -> Open World (Ctrl + O) or open the Asset Browser window, open the

airport_assets

folder, and select the airport_assets world. The scene will open.
Individual nodes will also be available as
*.node
files in corresponding subdirectories of the
data/airport_assets/
directory.
Last update: 2023-05-25
Help improve this article
Was this article helpful?
(or select a word/phrase and press Ctrl+Enter)