Using Editor Tools for Specific Tasks
Using Editor Tools for Specific Tasks
UnigineEditor tools are available via the Menu Bar: to open a tool window, choose Tools and click the required tool.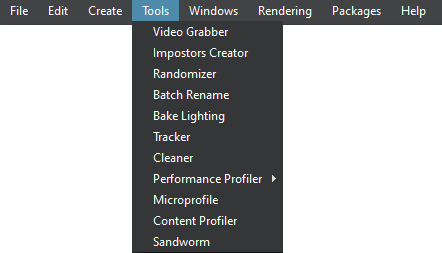 The following tools are available:
Video Grabber tool is used for capturing high-quality screenshots and frame sequences.

The Video Grabber tool is available only in the Engineering and Sim versions of UNIGINE SDK.

Impostors Creator tool is used to create impostors that are rendered instead of real objects.
Randomizer tool is used for random placing of various objects (cars, houses, trees and so on) making the environment look more natural.
Batch Rename window used for easy renaming of multiple assets in one click.
Bake Lighting window is used for all light baking tasks.
Tracker tool is used for creating sequences animated over time that allows for adding dynamic gameplay elements or making in-game cinematic scenes.
Cleaner tool is used to optimize the project by deleting assets that won't be used in the final build.
Performance Profiler tool is used to display performance data in a timeline. It allows for detecting bottlenecks of an application and checking assets and code optimization results.
Microprofile is used to inspect performance.
Content Profiler is used to facilitate the content optimization.

Sandworm tool is used to create a Landscape Terrain/Global Terrain according to provided geodata. The tool features the following:

Processing real world elevation and imagery data by using the GDAL.
Using GIS data for procedural generation of details and vegetation, roads, communications, buildings, landmarks, and so on.
Supporting multiple data layers aligned by geo-coordinates and used for terrain LODs creation.
Last update: 2023-10-05
Help improve this article
Was this article helpful?
(or select a word/phrase and press Ctrl+Enter)