Leaks Tool

Leaks tool is used for procedural painting of a leaks mask: a projection of screen space leaks calculated from the current camera position is written into the texture. The leaks mask is a black and white texture (similar to the ambient occlusion texture) that stores gradients directed along the gravity vector. For example, a convex detail on a wall will produce the downward gradient.
The Leaks tool is used for painting leaks on complex 3D models, especially on surfaces aligned at an angle to other surfaces, and other places where the leaks may occur. For example: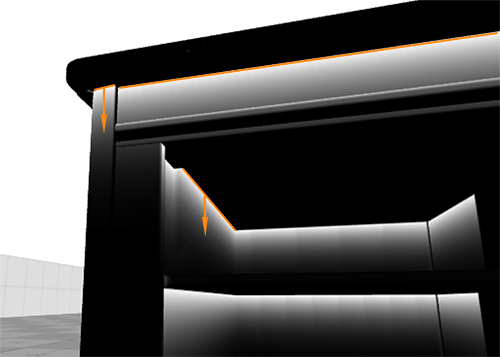 The arrows show direction of the gradient.
Leaks calculation with the Leaks tool doesn't depend on the UV map, as it is performed using screen-space tracing.
Settings#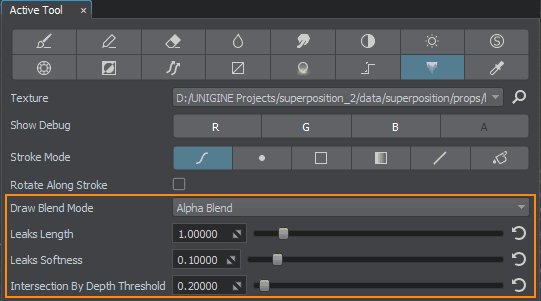 | | |
| --- | --- |
| Draw Blend Mode | Sets a blending mode used for painting. For more details, see the Brush tool settings. |
| Leaks Length | Length of the painted leaks. |
| Leaks Softness | Softness of the painted leaks. |
| Intersection By Depth Threshold | Depth threshold (in units) limits the leaks effect in areas where information cannot be obtained. The higher the value, the less pronounced the effect is. |
Last update: 2022-11-23
Help improve this article
Was this article helpful?
(or select a word/phrase and press Ctrl+Enter)