Oculus Rift Output with AppOculus Plugin
AppOculus Plugin
An AppOculus plugin is used to support the Oculus Rift head-mounted display.
It can be rendered in both the windowed and the full screen mode.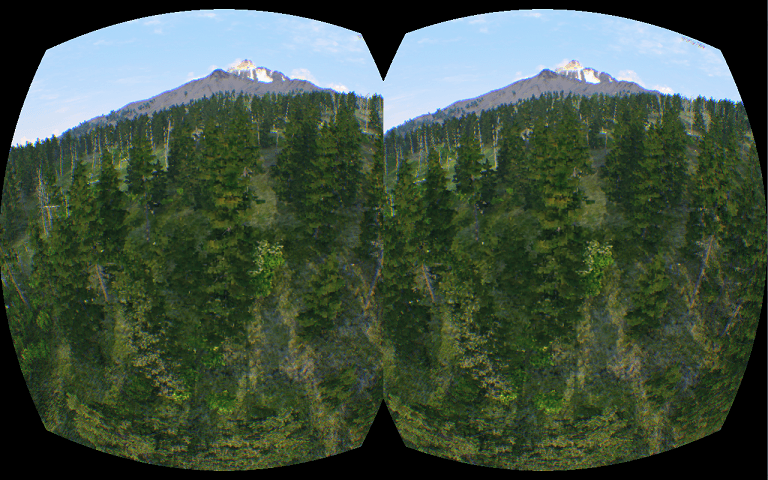 Valley benchmark working in Oculus Rift mode
The HD mode is also supported.
To use the Oculus Rift virtual display with Unigine, perform the following:
Plug in the Oculus Rift
Get and configure the Oculus Rift SDK
Implement the application logic and launch the AppOculus plugin on the application start-up
See Also
To run the plugin sample from the Unigine SDK Browser, press the AppOculus plugin button on the Plugin Samples tab.
Launching AppOculus
To launch the plugin, specify the extern_plugin command line option and STEREO_OCULUS define on the start-up:

main_x86d -extern_plugin "AppOculus" -extern_define STEREO_OCULUS
				
If the
extern_define STEREO_OCULUS
is not specified, a scene will be rendered incorrectly for the right eye.
Also you can create a new project with Oculus support by checking the Oculus support option on the New Project tab of the Unigine SDK Browser.
Head-tracking support is available by default.
On Linux, there is no head tracking support. On Mac OS X, head tracking is available only for 64-bit application version.
Plugin Compilation
Full Oculus SDK sources are required for the AppOculus plugin compilation:
Get the Oculus Rift SDK
Set path to the

<Oculus Rift SDK>/LibOVR

folder in the OCULUSROOT environment variable:


OCULUSROOT=<Oculus Rift SDK>/LibOVR
						

Compile the plugin with the build script:


C:\UnigineSDK\utils>build.py --plugin AppOculus
						

You can also compile the plugin manually with Scons:

Go to the

<UnigineSDK>\source\plugins\App\AppOculus

via the command line
Type scons and press ENTER:


C:\UnigineSDK\source\plugins\App\AppOculus>scons
								
Last update: 2017-07-03
Help improve this article
Was this article helpful?
(or select a word/phrase and press Ctrl+Enter)