Dynamic Reflections
This section contains rendering settings of dynamic reflections.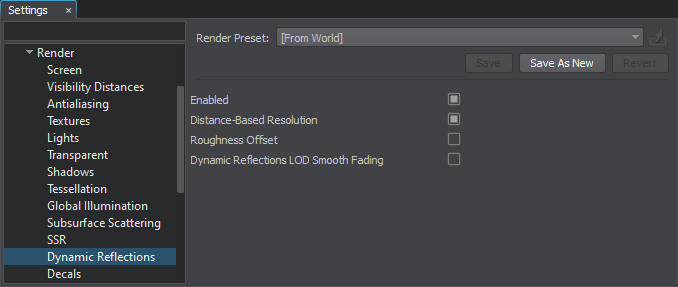 Dynamic reflections settings
Enabled
The value indicating if dynamic reflections for materials are enabled. enabled by default.
Console access: render_reflection_dynamic (API control)
Distance-Based Resolution
The value indicating if reduction of resolution of dynamic reflections when the camera moves away is enabled. enabled by default.
Console access: render_reflection_lods (API control)
Roughness Offset
The value indicating whether roughness offset is enabled for dynamic reflections produced by Environment Probes. Sometimes, when specular highlights from glossy surfaces get into dynamic Environment Probes a very bright flickering of lighting from it may appear. This option makes surrounding materials look more matte for an Environment Probe than they actually are, reducing such flickering artefacts. disabled by default.
Console access: render_reflection_dynamic_roughness_offset (API control)
Last update: 2023-06-23
Help improve this article
Was this article helpful?
(or select a word/phrase and press Ctrl+Enter)