Oil Refinery Demo
Oil Refinery demo with a lot of interactive features to showcase BIM (Building Information Model) capabilities of the engine.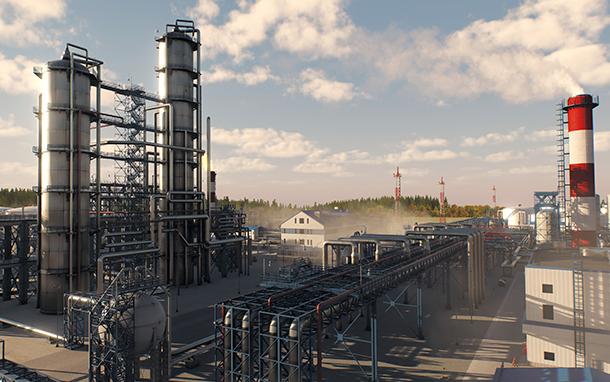 Embedded Logic System enables you to create custom training missions and testing scenarios using a pre-fabricated set of logic components and any available assets.
Two interactive personnel training and testing use cases are available:

Sequence of operations required to start a diesel generator
Sequence of maintenance operations for a chemical dosing station

Displaying various types of metadata (statistics, telemetry data, etc.) bound to certain buildings and facilities enables to control various parameters in real time.
Visualization of construction stages can be useful for overall construction process planning.
Switching the time of day provides an opportunity to check all lighting systems of the enterprise.
Video sequences can be used to make high-quality presentations of the project.
Features#
360,000 square meters territory
Over 45M polygons
Over 19,000 geometry surfaces
Over 1,300 light sources
Over 100 unique models
A set of modes making it possible to explore every corner of the oil refinery in various aspects
Dynamic sky with volumetric clouds and ability to change the time of day
Adjustable weather and wind speed
Scalable quality settings
VR support (Oculus Rift and HTC Vive/OpenVR)
Accessing Demo Source Code#
You can study and modify the source code of this demo to create your own projects. To access the source code do the following:
Find the Oil Refinery Demo demo in the Demos section and click Install (if you haven't installed it yet).
After successful installation the demo will appear in the Installed section, and you can click Copy as Project to create a project based on this demo.

In the Create New Project window, that opens, enter the name for your new project in the corresponding field and click Create New Project.

Now you can click Open Code IDE to check and modify source code in your default IDE, or click Open Editor to open the project in the UnigineEditor.

Last update: 2023-06-23
Help improve this article
Was this article helpful?
(or select a word/phrase and press Ctrl+Enter)