Terrain Optimization
Landscape Terrain Optimization#
Performance of the Landscape Terrain depends on the data streaming that lies behind its operation: only graphic data of areas that are visible by the camera at a moment is loaded and destroyed when it is no longer needed. Unoptimized streaming settings cause noticeable loading of areas when the camera moves.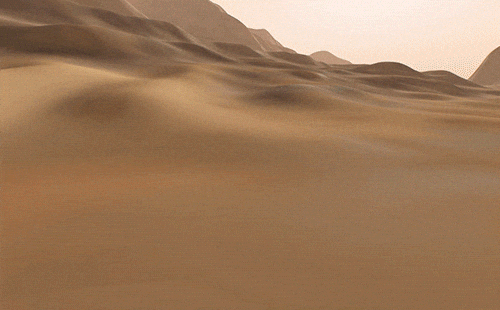 Visible streaming issues.
The overall life cycle of graphic data can be thought of as follows:
The system determines the tiles that are currently visible in the viewport, their spatial size and their highest available mip-level depending on the distance, terrain density limits and streaming settings.
The required graphic data of requested tiles of base textures is loaded from .lmap assets in chunks of 128×128 pixels and cached in the RAM (CPU cache) to be used in intersection calculations and physics.
The acquired data is uploaded to the GPU and cached in the video memory, if necessary (GPU cache).
The data of several Landscape Layer Maps (Albedo, Height and Mask textures) is blended according to the Blending Settings.
The base textures are blended with textures of the details (if any).
The final textures for each of three Landscape Terrain components (Albedo, Normal and Height) are written into the Virtual Texture replacing the oldest chunks.
The result is rendered in the viewport with due regard for Adaptive Hardware Tessellation and displacement.
The textures are replaced by newer data in the cache when no longer needed.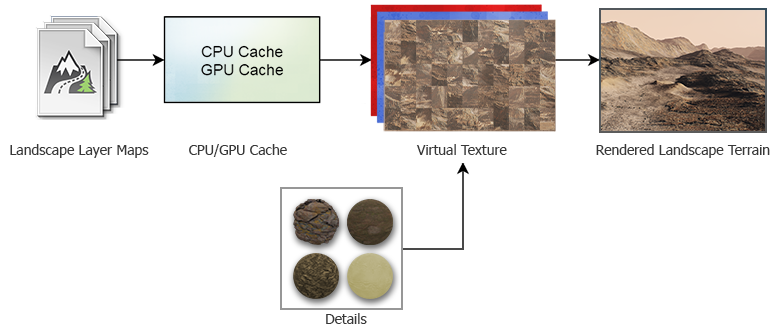 The life cycle of Landscape Terrain graphic data.
Profiling#
Landscape Layers#
Tiles Loading#
Details#
Virtual Texture#
Rendering#
Global Terrain Optimization#
The terrain_global_base material provides several parameters for fine tuning of terrain geometry optimization, shadows and LOD blending:
In case if your terrain does not require insets, you can disable this option to increase performance. To do so, just uncheck the Use Insets in the States tab.
Also you can use frustum culling optimization to affect performance: enable the Fast Frustum Culling option in the States tab. This option increases the number of culled polygons.
Last update: 2023-06-23
Help improve this article
Was this article helpful?
(or select a word/phrase and press Ctrl+Enter)