Lerp Contrast Preserving Node
Lerp Contrast Preserving Node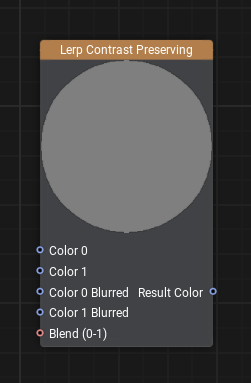 Description
This node is used to blend (linear interpolation) between two input colors Color 0 and Color 1 depending on the Blend (0-1) value. The colors Color 0 Blurred and Color 1 Blurred enable you to affect intermediate color values.
if

Blend = 0

the node outputs

Color 0

value
if

Blend = 1

the node outputs

Color 1

value
for all other

Blend (0-1)

values the node outputs a linear blend of

Color 0

and

Color 1

with respect to the

Color 0 Blurred

and

Color 1 Blurred

values.
This node preserves contrast avoiding intermediate "dirty" color shades unlike the Lerp node. For example, if you decide to blend red and green color, Lerp Contrast Preserving will let you get yellow output, while with Lerp you'll get muddy brown.
Last update: 2023-06-23
Help improve this article
Was this article helpful?
(or select a word/phrase and press Ctrl+Enter)