render_composite
A render_composite material allows you to apply the following full-screen postprocesses selectively (on per-material basis) rather then to the whole screen using the Auxiliary buffer:
This article is deprecated and will be updated in further UNIGINE updates.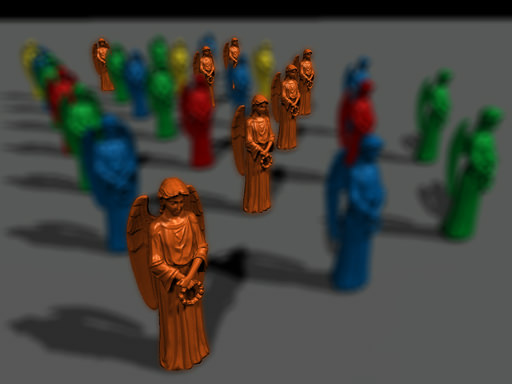 Material excluded from DOF
Usage
To apply render_composite material, follow these steps:
Set it (or a material inherited from it) in Render settings -> Composite shader field.

Make sure that Main menu ->Render tab -> Auxiliary buffer option is checked.

Go to the surface material. Set States tab ->Passes -> Auxiliary pass and set itDefault. It means that the material is rendered into the auxiliary color buffer.
It is also possible to mask materials for two postprocesses using surface material -> Parameters -> Auxiliary Color (see blur_mask and dof_mask below).
States
auxiliary_mode
Specifies if the surface (with Auxiliary pass enabled) should be rendered with the additional color multiplier:

Skip - additional color is not rendered
Overlay - color multiplier is applied

Overlay mode

blur_mask
Mask to exclude objects from Motion blur.

Skip - all materials are rendered blurred.
red - materials that have Auxiliary Color with non-zero Red channel value are excluded from motion blur.
green - materials that have Auxiliary Color with non-zero Green channel value are excluded from motion blur.

Yellow material is excluded from motion blur

dof_mask
Mask to exclude objects from DOF effect.

Skip - all materials are rendered with DOF effect applied.
red - materials that have Auxiliary Color with non-zero Red channel value are rendered without DOF effect (non-blurred).
green - materials that have Auxiliary Color with non-zero Green channel value are rendered without DOF effect (non-blurred).

Green material without DOF effect
Last update: 2018-06-04