Shadows
This section contains settings of scene shadows.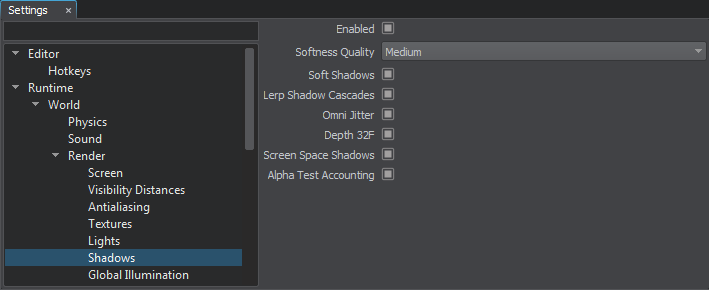 Shadows Settings
Enabled
Toggles rendering of shadows on and off.
Softness Quality
Softness quality of shadows. The higher the value the softer (the more blurred) the shadows. The option has an effect only if Soft Shadows is enabled. Available values:

Low - low quality
Medium - medium quality
High - high quality

Soft Shadows
Toggles rendering of soft shadows on and off. When enabled, the shadows become blurred on the edges.
Lerp Shadow Cascades
Toggles linear interpolation of shadows cascades on and off. When enabled, transitions between cascades become smoother. However, the option drops performance, as in the transition parts 2 shadow maps are rendered.
Omni Jitter
Toggles jittering of shadows casted by omni lights on and off.
Depth 32F
Toggles the use of 32-bit texture for the depth buffer used for shadows calculation on and off.
Screen Space Shadows
Toggles rendering of screen-space shadows on and off. When this option is enabled, penumbras from the light source are calculated using the ray tracing algorithm. The screen-space shadows should be used for small objects such as books, pens, etc. The option available for all light sources and calculates shadows at any visibility distance.
Alpha Test Accounting
Toggles alpha test for shadows on and off.
Last update: 2018-06-04
Help improve this article
Was this article helpful?
(or select a word/phrase and press Ctrl+Enter)