Art Assets Conversion
For Unigine engine to render art assets, they need to be in the Unigine-native file format: *.mesh.
If you want to move objects in Unigine, they should be exported as the separate MESH files rather than surfaces.
Mesh or
Skinned Mesh
Mesh (

*.mesh

) is a file format for static and skinned geometry. It supports multiple surfaces and variable number of morph targets for each surface, and also multiple named animations stored in the single file. It allows for:

assigning different materials
creating LODs

Skinned mesh animation
Skinned mesh animation (

*.anim

) is a file format that contains only the skinned animation. It is used together with MESH file that contains a bind pose. (This way you can have one skinned mesh (

*.mesh

and multiple animations for it).
Also you can export a spline along which an object moves. Such spline will be saved to a
*.path
file.
Conversion Methods
Conversion of files into a Unigine native formats can be done in several ways.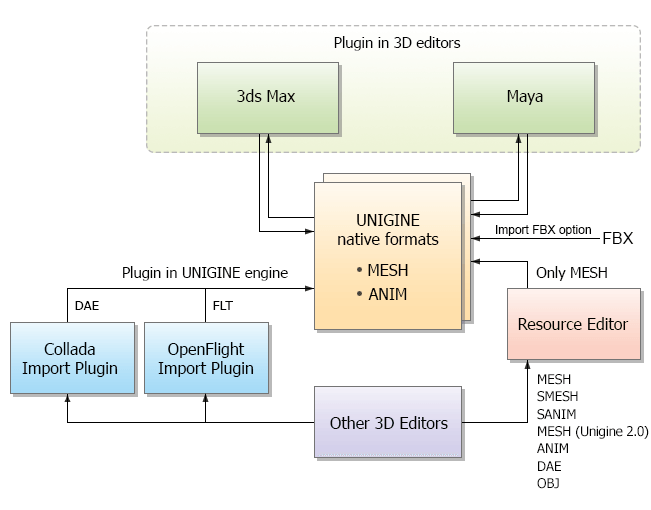 Assets conversion options
To import the FBX files, use the following ways of importing assets.
Moreover, in ResourceEditor you can convert and save art assets into the Unigine MESH format (for static geometry) if they are of the following formats:
3DS
LightWave Objects (LWO)
Wavefront (OBJ)
ASCII Scene Export (ASE)
COLLADA (DAE)
Last update: 2018-06-04
Help improve this article
Was this article helpful?
(or select a word/phrase and press Ctrl+Enter)