Starting with Sandworm
The functionality described in this article is not available in the Community SDK edition.
You should upgrade to
Engineering / Sim
SDK edition to use it.
This chapter gives an overview of the Sandworm tool interface.
Overview of the Terrain Generation Process#
In general, the process of generating the terrain in Sandworm is as follows:
Prepare assets: source data for terrain (geodata-based maps or links to online geodata sources), vector data to generate roads and point objects, OSM data to generate buildings, masks to generate vegetation, nodes that will be used as roads, trees, and anything else generated according to your data.
Open Sandworm and add the terrain data: heights and imagery.
Add roads, point objects, vegetation, and buildings, if any.
Set masks, if necessary.
Define the output settings such as terrain type, quality of generated data, and the world that will store the generated result.
Generate (or re-generate) the output.
Open the world with the output terrain in UnigineEditor.
Opening the Sandworm Tool#
To open Sandworm, select Tools -> Sandworm in the main menu.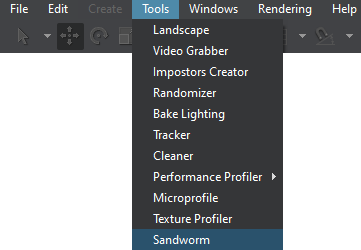 The following window will open:

If you have already worked with Sandworm and created projects, you'll also see a list of links to your recent projects for quick access: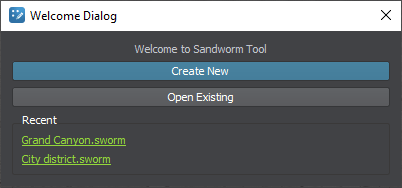 By clicking the Create New button, the Project Configuration window opens:

The coordinate system you choose here is set for the convenience of preview display. For data export, you should specify only a projected coordinate system because the generated terrain is exported to Object Landscape Terrain or Object Terrain Global, which is a flat (i.e., not geospherical) area.
Sandworm Interface#
The Sandworm tool interface has five panels: Sources, Output, Generation, Preview, and Parameters.
The location of panels is not fixed — you can rearrange them as necessary.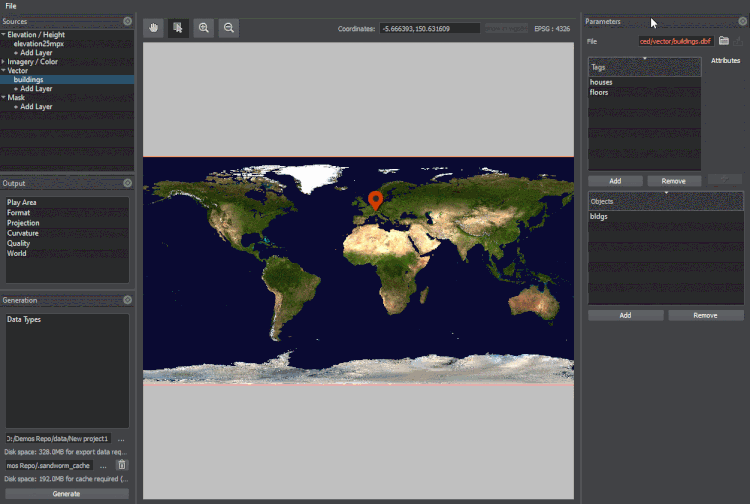 Sources Panel#
Preview Panel#
Output Panel#
Generation Panel#
Parameters Panel#
Last update: 2022-03-10
Help improve this article
Was this article helpful?
(or select a word/phrase and press Ctrl+Enter)