Volume Omni
Volume Omni is used to create a visible volume of light emitted from a flat surface, for example, embedded wall lights, flat ceiling lights or fluorescent lamps. Only a volume_omni material can be assigned to it.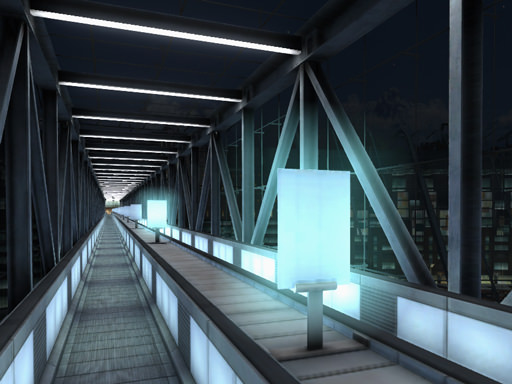 Volume Omni objects
Volume Omni is rendered in the following way: in the center there is a flat rectangle. It simulates a surface that emits light. Around its edges, there are billboards that always face the camera. They create a light volume around the surface even when you look on the omni from the side, and make the volume fade out smoothly. When you look at the object at 90 degrees, it is not visible at all.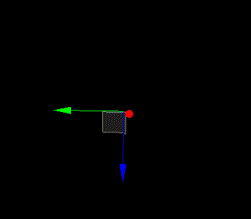 Fading out of Volume Omni at different angles
See also#
Creating a Volume Omni Object#
To create a Volume Omni object, perform the following steps:
On the Menu bar, click Create -> Volume -> Omni.

Place the Volume Omni object somewhere in the world.
Specify the Volume Omni object parameters.
Volume Omni Parameters#
In the Volume Omni section (Parameters window -> Node tab), you can adjust the following parameters of Volume Omni: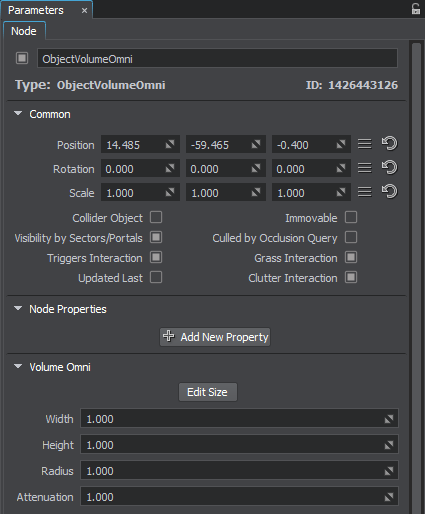 Edit Size

Toggles the editing mode for the Volume Omni node. When enabled, the Volume Omni sides that can be resized are highlighted with the colored rectangles. To change the size of a side, drag the corresponding rectangle.

Width
Width of the central rectangle in units (along the X axis).
Height
Height of the central rectangle in units (along the Y axis).
Radius
Size of Billboards around the edges in units.
Attenuation

Specifies how fast object fades out when viewed from the side.

By the minimum value of 0, Volume Omni doesn't fade out. It abruptly disappears when you look at Volume Omni at 90 degrees.
The higher the value is, the more faded out Volume Omni is at a small viewing angle. High values also decrease overall intensity.
Last update: 2022-04-07
Help improve this article
Was this article helpful?
(or select a word/phrase and press Ctrl+Enter)