Streaming
This section contains settings related to resource streaming.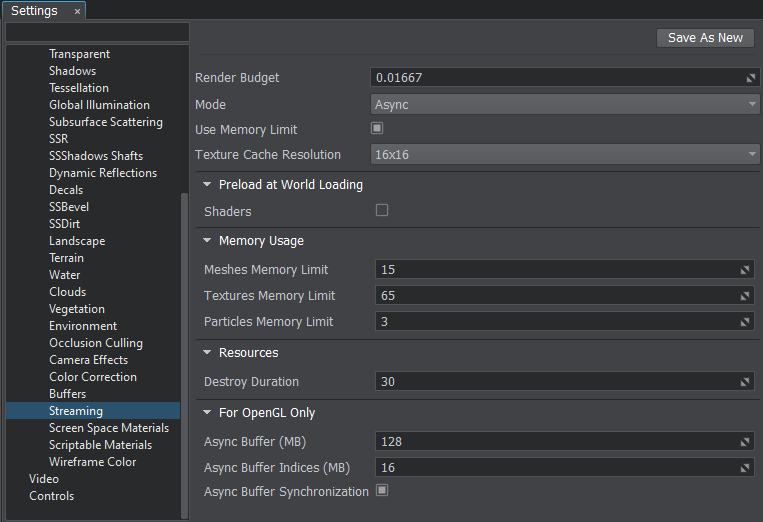 Streaming Settings
Render Budget
The render budget value, in seconds, which limits the number of loaded/created graphics resources during a frame according to loading/creation time.
Range of values: [0.0f, inf]. The default value is 1/60.
Console access: render_budget (API control)
Mode
The streaming mode to be used for textures and meshes. The Forced mode implies force-loading of all meshes and/or textures required for each frame at once and can be used for grabbing frame sequences, rendering node previews, warmup, etc. One of the following values:

Asynchronous (by default)
Forced


Console access: render_streaming_mode (API control)
Use Memory Limit
The value indicating if memory limitation for asynchronous resource loading (streaming of meshes and textures) is enabled. If enabled, applies the memory limits set for meshes, textures, and particles. Enabled by default.
Console access: render_streaming_use_memory_limit (API control)
Texture Cache Resolution
The resolution for texture cache elements. These minimized copies of textures are used instead of the originals while the latter are loaded. One of the following values:

8x8
16x16 (by default)
32x32
64x64
128x128
256x256
512x512


Console access: render_streaming_textures_cache_resolution (API control)
Preload at World Loading#
Memory Usage#
Resources#
For OpenGL Only#
Last update: 2022-03-10
Help improve this article
Was this article helpful?
(or select a word/phrase and press Ctrl+Enter)