Physical force fields, particles improvements and Softimage plugin
2009-12-10
Physics:
New PhysicalForce, PhysicalWind and PhysicalWater objects (simulation of viscous medium, buoyancy and resistance forces).
Fluid buoyancy for all physical shapes.
Added a set of samples with physical force fields and a rope sample.
JointPin can attach cloth to ragdolls.
Physics visualizers are now shown only with the editor loaded.
Particle systems are now affected by force fields.
Fixed velocity calculation for ragdolls transformed with setVelocityTransform() function.
Added 'world_show_physicals' console variable.
Particles:
New Chain type of particles for shift emitters to generate a seamless flow.
Particles reset emitter parameters on disabling/enabling of the node.
Some renaming in world/node files: 'stretch' -> 'length_stretch' and 'point_force' -> 'force' (run upgrade.py script to convert your data). This affected ObjectParticles API as well.
Removed 'emitter_velocity' and 'emitter_scale' parameters from the particle systems; added slightly different 'emitter_direction' and 'emitter_spread' instead.
Chain particle systems affected by force fields: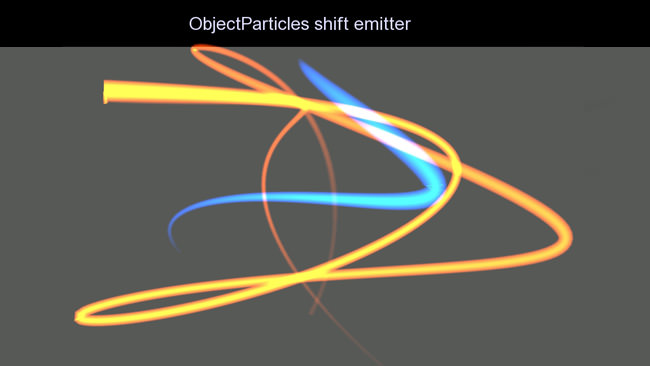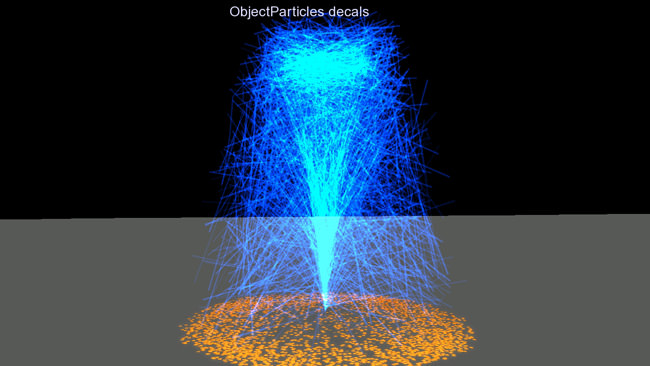 Other stuff:
Export plugins for Softimage 2010 (static geometry, skinned mesh animation).
Fixed AppWindow in Linux: it provides the same keycodes regardless of the current key layout.
Fixed node type filter in UnigineEditor.
Refactored tessellation shaders; there is some performance improvement.
Added 'post_filter_rgb2yuv' post-process filter that is useful for TV broadcasting.
Improved Unigine::Image C++ API: added more functions for image processing.
Added WidgetSpriteShader object, which can be used with a custom shader for post-process material.
Added Unigine::ObjectMeshDynamic::updateIndices() function.
Shadow objects force node update, there will be no shadow stalls.
Timestamps in log files.
WorldTransformExpression is renamed to WorldExpression.
Refactored stereo 3D launchers, now they can are not limited to dual view mode.
Adding array of visible nodes into the world is possible via UnigineScript.
Swizzling is now available in UnigineScript for functions; foo().x and foo()[2] is acceptable now.
Added EngineAnalyzer system, output can be seen via 'engine_analyze' console command.
Fixed occluders rasterizator.
All GUI fonts have anisotropy enabled now.
Updated documentation on particle systems ("Principles of Operation / Objects / Particle systems" section of the manual).
Updated article on blending in materials ("Content Creation / Materials Overview / Blending Options").
Softimage export plugin GUI (see documentation for more information on options):