Cinematic DoF and fast lights
2008-12-23
Programmer news:
Dedicated shaders for non-shadowed surfaces, huge speedup on high quality shader profile.
Severe renaming of shader constants due to refactoring.
Added set of functions for access to packed files (engine.filesystem.getNumUngPackageFiles and others).
Per-node storing of properties and materials (use this feature carefully with materials because it can affect performance).
More verbose scripts parser: filename for #warning and #error, added __FILE__ and __LINE__ defines, more informative asserts and breakpoints.
Fixed PSD saving code.
More samples with lights.
Artist news:
New LightSpot object: very fast omni light without shadows, which can group by 4 sources and render at once.
Adjustable diffuse scale for all light sources.
Independent LOD system for lights, there are three new parameters: light distance (after this distance light starts fading), shadow distance (after this distance shadow starts fading), fade distance.
The same LOD model for particle systems with visible and fade distances.
Corrected ambient color calculation for water.
LightCube R.I.P., LightOmni now can be modulated by a cubemap, if needed.
ObjectMeshMorph support removed.
Fixed lack of accuracy in color dialog (HSV colorspace).
Adjustable background color of the scene (useful for blue/green screen composing systems).
Bokeh filter, available in DirectX10 and OpenGL with geometry shaders (it can be turned on by "render_dof 2 && render_restart" console command).
Bokeh filter is disscussed in blogs for a while, for example inVincent Scheib's one, "Beautiful Pixels". Here are examples of Bokeh filter usage in Unigine:
| | |
| --- | --- |
| | |
| Ordinary DoF | Bokeh filter |
| | |
| Ordinary DoF | Bokeh filter |
That's how multiple LightSpots can improve a look of the scene, where it's hard to use that many LightOmni:
| | |
| --- | --- |
| | |
| LightSpot disabled | LightSpot enabled |
| | |
| LightSpot disabled | LightSpot enabled |
Resulting image quality of LightSpot + lightmaps mixture is very good for night modes, especially taking into the account nice performance (the screenshot is taken from an unnounced Unigine-based game, developing by our content department):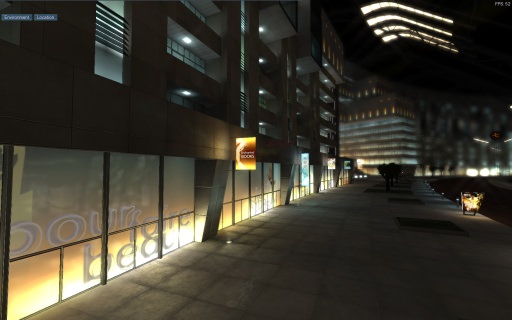 We're also pleased to note that two more game developers have joinedour crew, Alexey "FadeToBlack" Egorov (developer) and Stanislav "brrrrr" Zagniy (3D artist), welcome aboard! They shipped a funny game "Sumotoha" recently and now are working on our internal projects.