VR Sample

VR sample based on VR template showcases the capabilities of the UNIGINE 2 Engine for VR applications. In this demo, you will find yourself in the middle of the scene that is similar to the one you see when you open a default UNIGINE world. The scene contains a table with a set of interactive objects, which you can manipulate via controllers. Among these objects, you'll find a laser pointer, which works as a real one. You can move and teleport around the scene. Moreover, you can interact with GUI elements using controllers. VR sample на основе VR template демонстрирует возможности UNIGINE 2 Engine для приложений VR. В этой демонстрации вы окажетесь в середине сцены, которая похожа на ту, которую вы видите, когда открываете мир UNIGINE по умолчанию. Сцена содержит таблицу с набором интерактивных объектов, которыми вы можете управлять с помощью контроллеров. Среди этих объектов вы найдете лазерную указку, которая работает как настоящая. Вы можете перемещаться и телепортироваться по сцене. Более того, вы можете взаимодействовать с элементами графического интерфейса с помощью контроллеров.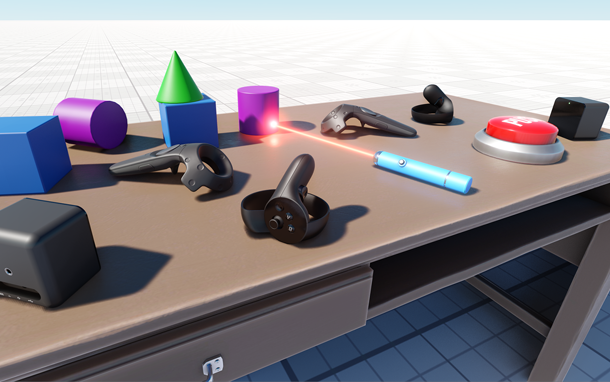 Features

Функционал#
Based on VR template Based on VR template
VR support (Oculus Rift and HTC Vive) Поддержка VR ( Oculus Rift и HTC Vive )

A set of physical objects that can be manipulated via controllers

Набор физических объектов, которыми можно управлять с помощью контроллеров.

An interactive laser pointer object

Интерактивный объект "лазерная указка"

Teleportation around the scene

Телепортация вокруг сцены

Interaction with GUI objects via controllers

Взаимодействие с объектами графического интерфейса через контроллеры
Последнее обновление: 11.11.2020
Помогите сделать статью лучше
Была ли эта статья полезной?
(или выберите слово/фразу и нажмите Ctrl+Enter