Viewer Demo
Функционал, описанный в этой статье, недоступен в Community редакции SDK.
Чтобы использовать этот функционал вам необходимо получить лицензию на
Engineering / Sim
SDK.

This demo serves as an example of integration into a Qt application. You can control the viewport, select the scene, change various rendering presets and parameters via Qt widgets. Эта демонстрация служит примером интеграции в приложение Qt . Вы можете управлять окном просмотра, выбирать сцену, изменять различные предустановки и параметры рендеринга с помощью виджетов Qt.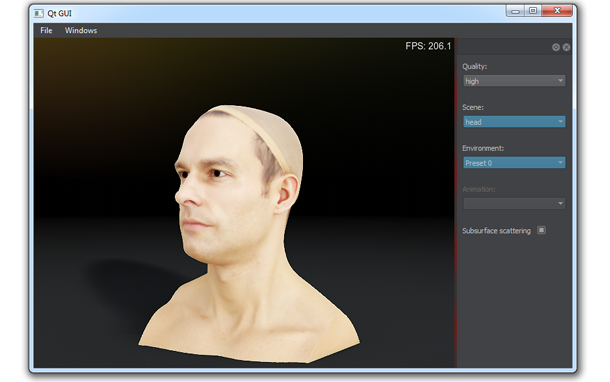 Features

Функционал#
Qt viewport, main menu, and configuration window

Окно просмотра Qt, главное меню и окно конфигурации

Camera control (rotation, zoom in and out)

Управление камерой (вращение, увеличение и уменьшение)

Switching the quality presets (low, medium, and high)

Переключение предустановок качества (низкое, среднее и высокое)
Toggling between the scenes: Quadrocopter and Portal (Superposition demo) Переключение между сценами: Quadrocopter и Portal (Superposition demo)

Changing environment presets

Изменение пресетов среды

Enabling and disabling animations

Включение и отключение анимации
Последнее обновление: 11.11.2020
Помогите сделать статью лучше
Была ли эта статья полезной?
(или выберите слово/фразу и нажмите Ctrl+Enter