Soldier Demo
Функционал, описанный в этой статье, недоступен в Community редакции SDK.
Чтобы использовать этот функционал вам необходимо получить лицензию на
Sim
SDK.

High-quality sample with an animated human character. Высококачественный сэмпл с анимированным человеческим персонажем.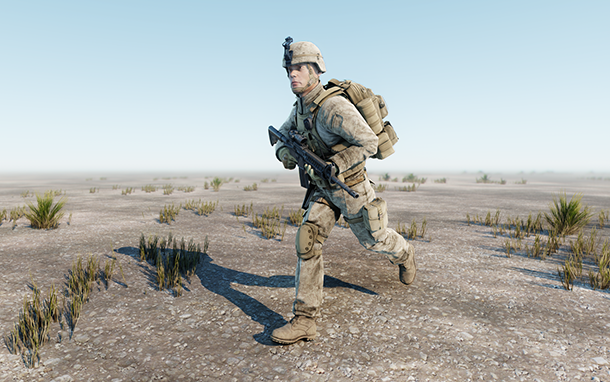 Features

Функционал#
High-detailed model of over 40,000 polygons

Детализированная модель из более чем 40 000 полигонов.

High-quality weapon models: gun and rifle

Качественные модели оружия: ружье и винтовка
Subsurface scattering: an effect simulating penetration of the light under the surface of the skin Subsurface scattering : эффект, имитирующий проникновение света под поверхность кожи.
Последнее обновление: 11.11.2020
Помогите сделать статью лучше
Была ли эта статья полезной?
(или выберите слово/фразу и нажмите Ctrl+Enter