LiDAR Demo

LiDAR is a method used in robot vacuum cleaners, drones, self-driving cars, etc. for optical scanning of surroundings. This demo contains the LiDAR emulation that can be used for training autopilots and AI. A quick and accurate scaner is implemented using the depth buffer. You can configure your LiDAR (set the desired range, FOV, resolution, and other parameters) via API. LiDAR - это метод, используемый в роботах-пылесосах, дронах, беспилотных автомобилях и т. д. для оптического сканирования окружающей среды. Эта демонстрация содержит эмуляцию LiDAR, которую можно использовать для обучения автопилотов и ИИ. Реализован быстрый и точный сканер с использованием буфера глубины. Вы можете настроить свой LiDAR (установить желаемый диапазон, угол обзора, разрешение и другие параметры) через API.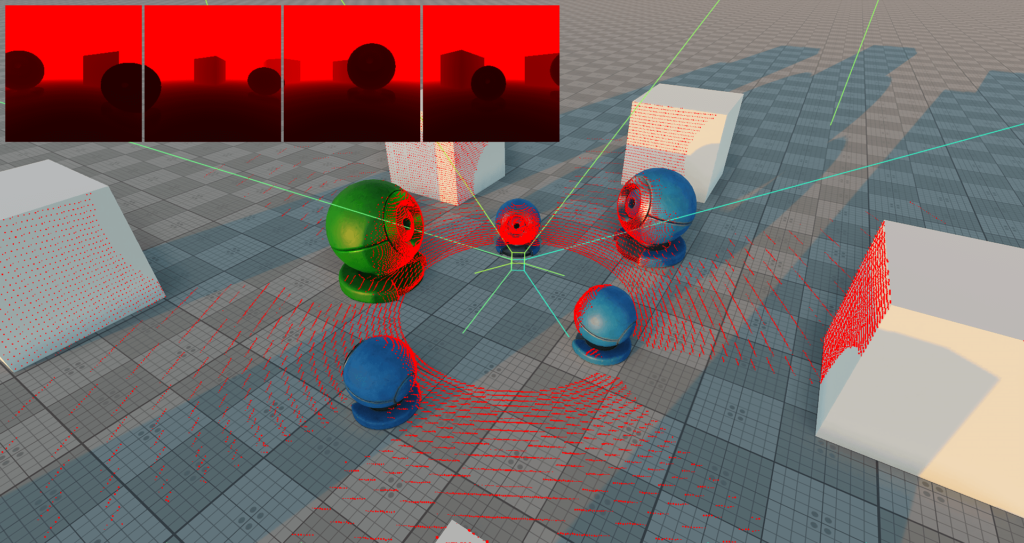 Features

Функционал#
Reusable code emulating the LiDAR scanner

Многоразовый код, эмулирующий сканер LiDAR.

Rendering from cameras into textures

Рендеринг с камер в текстуры

Processing of GPU textures on the CPU side

Обработка текстур GPU на стороне CPU
Последнее обновление: 11.11.2020
Помогите сделать статью лучше
Была ли эта статья полезной?
(или выберите слово/фразу и нажмите Ctrl+Enter