Параметры анимации растительности

This section contains vegetation animation parameters applied across the whole world.Этот раздел содержит параметры анимации растительности, применяемые по всему миру.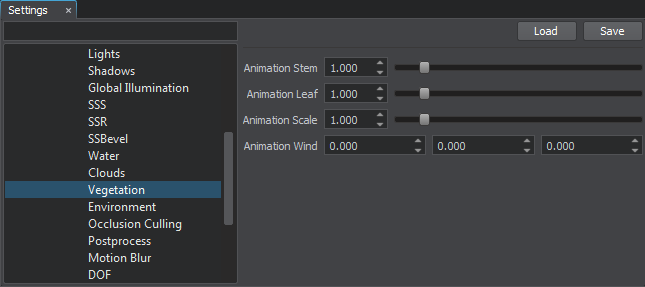 Vegetation Animation Parameters
Параметры анимации растительности
Animation Stem

Global scale for movement amplitude of vegetation stems.

Глобальная шкала амплитуды движения стеблей растительности.
Animation Leaf

Global scale for rotation angle of vegetation leaves.

Глобальная шкала угла поворота листьев растительности.
Animation Scale

Global scale for speed of vegetation swaying.

Глобальная шкала скорости покачивания растительности.
Animation Wind

A multiplier for the stem offset under wind (for all 3 axes). It sets the direction of wind for all vegetation (grass and trees).

Множитель смещения стебля при ветре (для всех 3 осей). Он устанавливает направление ветра для всей растительности (травы и деревьев).
Последнее обновление: 11.11.2020
Помогите сделать статью лучше
Была ли эта статья полезной?
(или выберите слово/фразу и нажмите Ctrl+Enter