Dummy Body
Dummy body is a static body, that does not move and has no physical properties. It is used as a prop to attach other bodies with joints to.
If a dummy body is assigned to a dummy object, it is completely invisible.
If a dummy body has a shape, it can collide with other physical objects. They will bounce off or slide along it in accordance with their parameters, but a dummy body will always stay in place.
On the picture below you can see a dummy object with a dummy body and without any collision shape. It pins the physical cloth so it can hang without any rack. At the same time, it does not collide with balls that roll through it.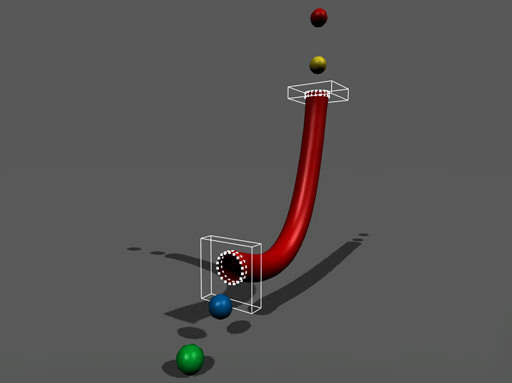 An invisible dummy body (with assigned shape) used to pin a cloth body to
See also
Assigning a Dummy Body
To assign a dummy body to an object via UnigineEditor perform the following steps:
Select an object to assign a dummy body to.
Open the Nodes window by pressing the N key.
On the Body tab of the Nodes window select Type -> Dummy.
Set body's name and change other parameters if necessary.
Last update: 2017-10-20
Help improve this article
Was this article helpful?
(or select a word/phrase and press Ctrl+Enter)