Physical Bodies
To assign an object some physical properties so that it could participate in interactions between objects or external physical forces, it should have a body. Each body enables to simulate different types of objects:
Rigid Bodies Dynamics
Most physics simulations are based on rigid body dynamics. A rigid body is an ideal representation of a solid body, which occupies a finite volume of space and has a particular shape. Such bodies cannot be deformed, i.e their geometrical shape does not change no matter what happens with this body. Rigid body physics is applied to the following bodies and their shapes:
After being enabled, all of these bodies and their shapes that approximate object's volume share common properties of rigid objects obeying Newtonian mechanics.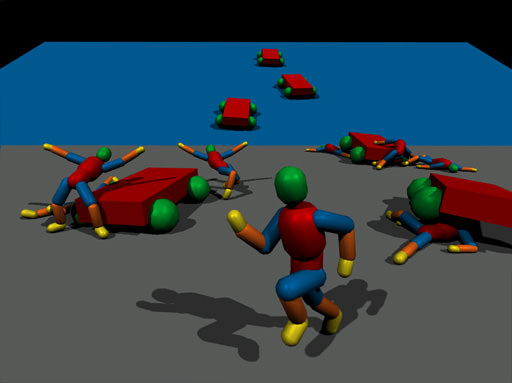 Rag dolls and rigid bodies moving according to rigid bodies dynamics
Basic Concepts
Mass
Density
Linear Damping and Angular Damping
Maximum Linear Velocity and Maximum Angular Velocity
Friction
Restitution
Frozen Linear Velocity and Frozen Angular Velocity
Last update: 2017-07-03
Help improve this article
Was this article helpful?
(or select a word/phrase and press Ctrl+Enter)