Pedestrians
Just like cars, each pedestrian is an entity and is bound to a node reference. The base class for pedestrians is called "Pedestrian".
ObjectMeshSkinned Settings
As a root node for pedestrian node reference there must be an ObjectMeshSkinned. As with cars, pedestrians must have a surface replicating a pedestrian's bounding box. This surface is required for pedestrian identification by means of intersection rays. A pedestrian's intersection mask should be 0x00000080.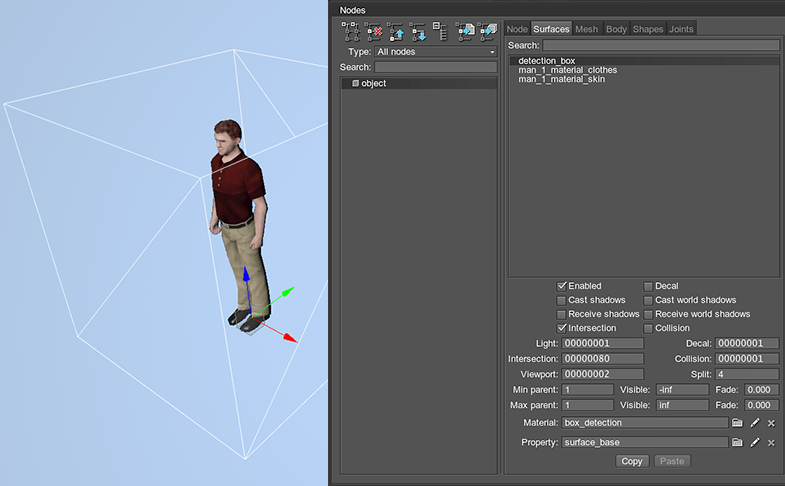 Pedestrian Settings
For each pedestrian's ObjectMeshSkinned, a BodyRigid and its shapes are adjusted manually from Editor.
By default, pedestrian animation can have two options: "Animation Idle" and "Animation Walk". In the "Pedestrian" entity settings you can specify the following parameters:
Paths to files with animation.
The animation playback speed.
The minimum and maximum pedestrian speed.
The pedestrian turn speed.
Custom Animation
In case you want to change animation logic, you need to inherit a "Pedestrian" class and redefine the following methods:
Pedestrian::animation_init(), which performs animation initialization.
Pedestrian::animation_update(), which performs animation update.
These methods are called automatically. A Pedestrian::animation_update() method is called every frame.
Last update: 2017-07-03
Help improve this article
Was this article helpful?
(or select a word/phrase and press Ctrl+Enter)