Multi-View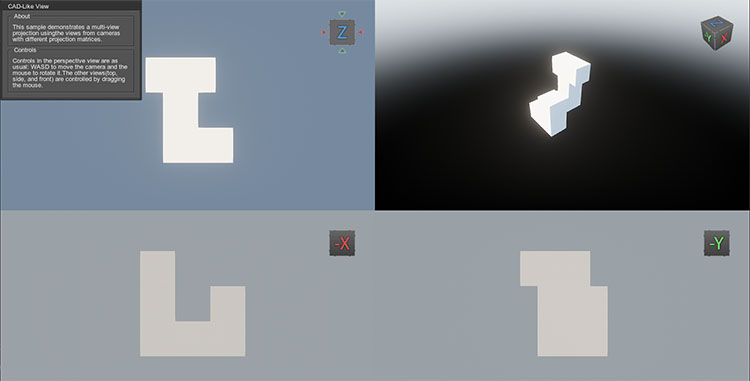 The Multi-view set of samples demonstrates how to create several viewports in the application:
CAD-Like View implementation demonstrates a multiview split screen combining views (front, side, top, and perspective) from cameras having different projection matrices like in a CAD software.
Split-Screen View implementation uses WidgetSpriteViewport and allows controlling the movement of two cubes each having its own view on a single keyboard (WASD for the top view and arrow keys for the bottom) like in old-style racing games.
Accessing Demo Source Code#
You can study and modify the source code of this demo to create your own projects. To access the source code do the following:
Find the Multi-View demo in the Demos section and click Install (if you haven't installed it yet).
After successful installation the demo will appear in the Installed section, and you can click Copy as Project to create a project based on this demo.

In the Create New Project window, that opens, enter the name for your new project in the corresponding field and click Create New Project.

Now you can click Open Code IDE to check and modify source code in your default IDE, or click Open Editor to open the project in the UnigineEditor.

Last update: 2023-06-23
Help improve this article
Was this article helpful?
(or select a word/phrase and press Ctrl+Enter)