Industrial Assets
The functionality described in this article is not available in the Community SDK edition.
You should upgrade to
Engineering / Sim
SDK edition to use it.
The Industrial Assets add-on provides a set of ready-to-use assets representing vehicles and various props that can help you create an industrial scene, such as a construction site.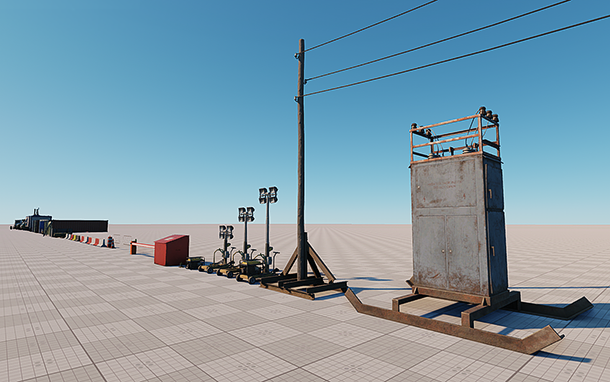 Vehicles:
Trucks
Minibus
Pickup
Backhoe loader
Props:
Containers
Barrels
Toilet
Wheel
Fences
Drainage pump
Concrete barriers
Cones
Automatic barrier gate
Mobile light tower
Diesel generator
Temporary electric poles
Opening the World#
To open the world containing models:
Download the Industrial Assets add-on from Add-On Store.
Add the downloaded add-on (UPACKAGE file) to your project by dragging it into the project

data/

folder in the Asset Browser. In the Import Package window that opens, click the Import Package button and wait until the add-on contents are imported.
Click File -> Open World (Ctrl + O) or open the Asset Browser window, open the

industrial_assets

folder, and select the industrial_assets world. The scene will open.
Separate nodes will also be available as
*.node
files in corresponding subdirectories of the
data/industrial_assets/
directory.
Last update: 2023-06-23
Help improve this article
Was this article helpful?
(or select a word/phrase and press Ctrl+Enter)