System Menu
The System Menu window is displayed only when Wall, Projection, or Syncker plugin is loaded and contains settings for these plugins. It can be opened by pressing Esc.
The System Menu is available only when the UnigineEditor isn't loaded.
Syncker#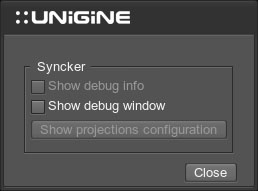 System Menu window for Syncker plugin
This window is available if the Syncker plugin is used.
Show debug info — shows debug information on the master and slaves. It includes the number of synchronized nodes and materials, a name of the view, the number of connected slaves (on the master computer), and others.
Show debug window — opens the debug window that allows monitoring the objects hierarchy at run time.
Show projection configuration — enables the projection setup mode.
Wall & Projection#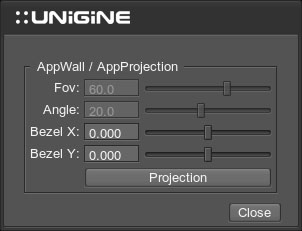 System Menu window for Wall/Projection plugin
This window is available if the Wall or Projection plugin is used. The settings are described here.
To open the
Projection Configurator
, click
Projection
. This option is available only for projects with the
Projection
plugin loaded.
Last update: 2023-06-23
Help improve this article
Was this article helpful?
(or select a word/phrase and press Ctrl+Enter)