Triplanar Normal Node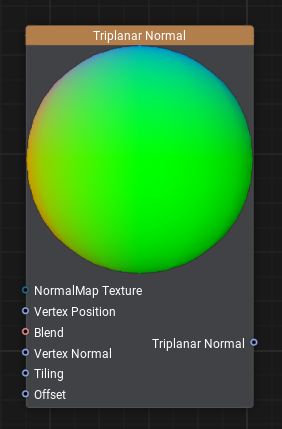 Description
Samples tangent-space normal vectors from the NormalMap texture using triplanar mapping.
It's enough to simply pass the normal map texture to the node to get a working triplanar projection, all the other inputs have appropriate default values.
If you want to fine tune the result override the input parameters. Please note that Vertex Position and Vertex Normal inputs must be in the same space:
Object Space for object-space triplanar mapping.
World Space for world-space triplanar mapping.
World-space
triplanar mapping works properly only within the distance range of
10000
units from the origin (regardless of the supported
precision of coordinates
).
Ports
Name
Description
Texture2D
Color texture.

Vertex Position
Vertex position of the geometry. Specify it if you deformed the source geometry.

Blend
Blending intensity between the projection axes, in the

[0; 1]

range.

Vertex Normal
Vertex normals of the geometry. Specify it if you modified the source geometry normals or to take into account some normal map.

Tiling
Tiling along each projection axis.

Offset
Offset along each projection axis.

Triplanar Color
Color sampled from the input texture.
Last update: 2023-06-23
Help improve this article
Was this article helpful?
(or select a word/phrase and press Ctrl+Enter)