Syncker Demo
Syncker demo showcases the capabilities of the UNIGINE Syncker plugin. This plugin provides robust and reliable frame synchronization for real-time content rendering in a multi-node network cluster, fully customizable via API.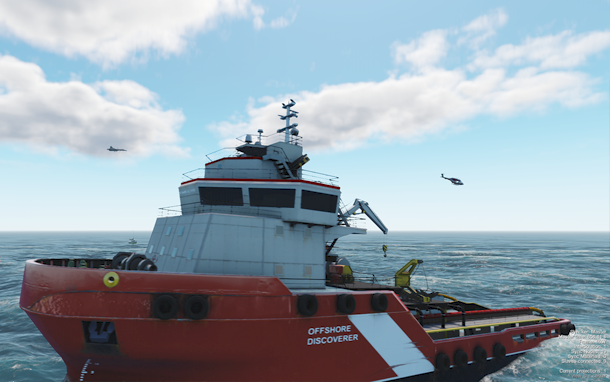 Launch the demo application and specify necessary configuration settings in the dialog window that appears.
Features#
10 dynamic and 6 static objects
Automatic synchronization of global water (ObjectWaterGlobal), cloud layers (ObjectCloudLayer), and world light sources (LightWorld).
Synchronization of dynamic objects, moving along the trajectories set by splines (vessel, boats, aircrafts).
Behavior of static nodes (buoys), that have their position determined by the ObjectWaterGlobal. These nodes are not synchronized, but their positions are adjusted indirectly via global water (ObjectWaterGlobal) synchronization.
Synchronization of child nodes in the NodeReference hierarchy (helicopter rotors).
Last update: 2019-12-25
Help improve this article
Was this article helpful?
(or select a word/phrase and press Ctrl+Enter)