DirectX 11 render, networking sample
2009-09-15
What's new:
DirectX 11 render is almost ready (tessellation feature still needs to be implemented).
Shader Model 5.0 is supported now, i.e. the following six types of shaders are available: vertex, hull, domain, geometry, pixel, compute.
Switch to August 2009 DirectX SDK (don't forget to update your DirectX installation).
HDR, glow and SSAO are implemented via DirectCompute in DirectX 11.
Improved performance of DirectX 10 render.
Textures can be binded to any type of shaders now.
Renamed d3d10_render_use_*_level_1 console variables to d3d10_render_use_*_level_101.
Increased maximal shadow map dimension to 8192 in the editor.
Added cage feature to AmbientMapper (works similar to the NormalMapper one).
Fixed ambient occlusion bug with enabled impostors.
Improved SSAO that takes into account normal map data and provides better quality and reasonable performance (requires re-adjusting parameters).
GUI rendering speedup.
Updated HDR post-processes (refactoring, improved performance).
Added HDR shaft flare effect.
Detail textures can use 1st or 2nd UV channels for all meshes.
Plugins for Maya 10.0 (2009).
Fixed bug with physique modifier in 3dsMax skinned mesh export plugin.
ObjectGUI without background isn't blurred by the DoF filter.
Warm start of physical joints.
Improved freezing of physical objects with joints.
Added "softness" joint parameter to be used along with "restitution" for fine tuning (use with care, it can affect joint stability).
Reduced memory consumption by physical contacts data.
Collision detection speedup.
Fixed bug with referencing to deleted objects in UnigineScript.
Garbage collection for objects of extern C++ classes in UnigineScript, use class_manage(obj) function in scripts to register an object for automatic memory management, or use additional arguments of setExternClassObject() or Variable constructor; refer to the documentation for more details.
Added functional constructors (Unigine::ExternClass::addConstructor() with two arguments) and destructors (Unigine::MakeExternClassDestructor()) of external classes to be exported in UnigineScript via C++ API.
Faster interconnection between C++ API and scripts.
Added integration sample for RakNet high-level networking library (source/samples/Network), see "Programming / Application Samples / Network Sample" section of the manual.
Added network chat sample (data/demos/chat).
Updated C++ API documentation.
Completed documentation on UnigineScript library.
By the way, it seems that mesh skinning via compute shaders is faster than stream out under DirectX 11.
HDR shaft flare post-effect: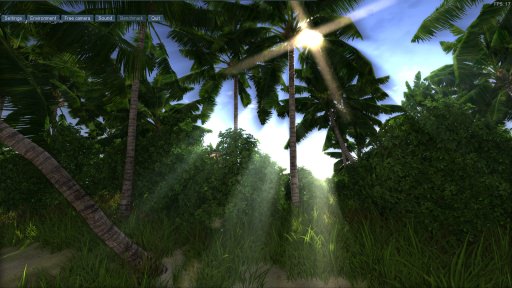 PS: Massive reinforcements of our team has arrived: Pavel Kurinnoy (tools developer), Evgeniy Yundin (QA engineer) and Alexey Maslennikov (sales manager).