Improved data streaming, KeyLine and new upgrade system
2009-02-21
What's new:
Smart data streaming: textures shows 64x64 mipmap (those miniatures are always loaded in memory) before fully loaded, meshes are rendered when loaded.
Separate thread for data loading, which allows smoother data loading in the background without stalls.
Loading queue can be controlled by a set of filesystem_* console variables.
Improved warming up of shaders on world loading.
manager_preload_* console variables renamed to render_manager_load_*.
New formats of meshes: static meshes store their boundings for faster preload, plus there is a more effective data compression for both static and skinned meshes (warning: you must convert your data in order to work with this version, see notes about upgrade system below).
meshupgrade console tool for converting all meshes into new formats.
Fixed light masks for LightSpot sources.
Refactoring of mathlib, some Fast* functions removed.
Correct interpolation for negative frames in MeshSkinned (also added getFrameCurrent() function).
Per-bone weight normalization for animation.
New framework for plugins.
MeshSkinned import plugins for 3dsMax and Maya.
Contact toggle for WorldTrigger.
Added array.find() function with two arguments in UnigineScript, returns second argument if nothing found.
engine.splash.renderSplash() function renamed to engine.splash.renderInterface().
Added addLayer() function for MeshSkinned without flushing data on other layers.
Added engine.memory.* set of functions in UnigineScript library.
Static 2D reflections (reflection_dynamic state in water_base and mesh_reflection_2d materials, static by default).
MeshViewer shows basis and name for bones.
Removed support of Intel compiler and MinGW.
Quadratic exposure mode for HDR (set render_hdr console variable to "2").
Improved class casting in UnigineScript, Foo(input).function() syntax is supported now.
Support of Linux 64 bit with cross-compilation (use "scons cross=x86" or "scons cross=x64" depending on base platform).
Versions of XML data (world, node, mat, prop, ui) can be different from this moment.
New data upgrade system.
New KeyLine system for key sequences, see "Programming / UnigineScript / Scripts / KeyLine Script" section of the manual for more information.
Updated C++ API documentation and reference manual.
KeyLine system handles arbitrary key sequences and takes care of interpolation between key values, providing GUI for data manipulation as well. It is a somewhat data-driven system, meta-information is stored in the XML format. Licensees can see how this system is used in new version of Tropics demo for dynamic environment control.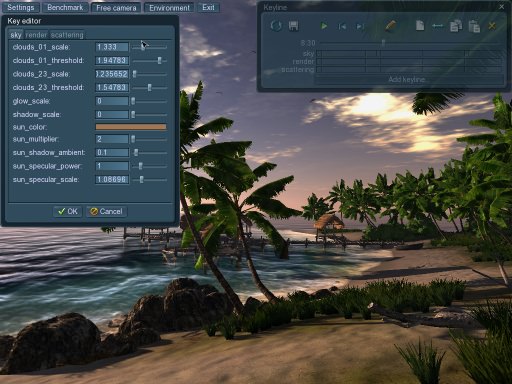 We also introduce a new one-button upgrade system, see 'scripts/Upgrade' directory in the SDK. Please note that it requires updated Unigine_Externs package installed and 'Unigine_Externs/bin' in your system's PATH variable. To perform batch meshes upgrade you should simply run "upgrade.py --target=PATH-TO-YOUR-PROJECT" from the command line.
PS: Don't forget to update your video drivers to recent ones (but be aware about some bugs in OpenGL with ATI), previous version from NVIDIA was very buggy.