Tropics demo released!
2008-09-04
First of all,we have released a new demo , it took a month to create it by our small content department. "Tropics" demo has funny crabs and gulls inside, check it out!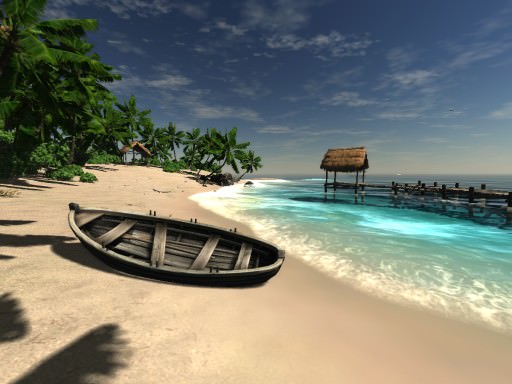 We have updated "Sanctuary" demo also (improved shadows quality, increased textures resolution, added more stereo 3D modes and "candle weapon" camera mode). Screenshots gallery is updated as well.
What's new in the engine and tools:
Password mode for WidgetEditLine.
Automatic placement of WidgetSpinBox if it's attached to WidgetEditLine.
Fixed font wrapping on labels and buttons.
Fixed color codes for WidgetEditText.
Correct localization for complex widgets.
Fixed ObjectWaterMesh and volume fog.
Support of double precision vectors in math library.
Automatical approximation of meshes by convex hulls for BodyRigid.
Auto-update of decals on change of their parameters.
Optional Phong shading for foliage material.
Added Xml::removeChild() into UnigineScript.
Fixed spline exporters for 3dsMax.
Automatical installer of plugins for 3D editors.
Improved default look of the Sun.
Correct import of RGB normalmaps in ResourceEditor.
Template of WiX-based installer for Windows.
Fixed impostors overlighting.
More supported video modes.
Added getFTime() function for detection of precise frame time.
Support of password-protected zip packs.
"Soft mouse" mode support.
There are a lot of "automatic" words in here :)
PS: Due to the popularity of indie developers support program it was decided to continue it, so small independent studios have a chance to license Unigine technologies by low prices, starting from $15k. Please see licensing page for more information.